Chicken of the Web Support:
Advertising:
For old-school photographers with new-school phones.
Android Market link: Chicken of the Web apps
Sure, analog timers are fine, but can you change the color of the clock? No! Can you have it beep when it's time to dump the hypo-clear? Well, sometimes, sure. But can you save an unlimited number of presets, programmed to get consistent, reliable results for your film processing? No!
The Darkroom Timer, available in the Android Market, is a simple way to save all the details of your preferred film process and use them with a simple click of a button.
---
CHANGELOG
1.0

Initial release.

1.1

Add support for home-screen shortcuts. Long-click on home screen to add them.

1.4

Bug fixes and agitate sound prompts.

1.5

Redlight mode. Enable via settings on timer screen.
---
Found a bug? Feature requests? Email cramer@webkist.com with as much info as you can give, or just leave a comment. For the hardcore: GitHub sourcecode repository.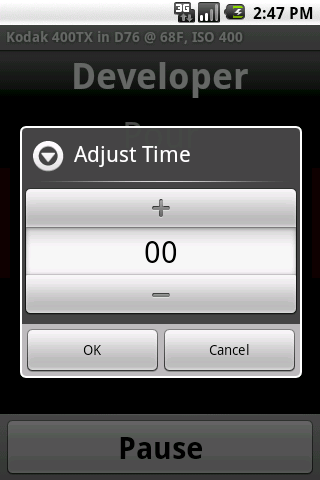 blog comments powered by

Disqus